Jaco Costa Rica Bachelor Party Vs Cartagena Colombia [2023 Review]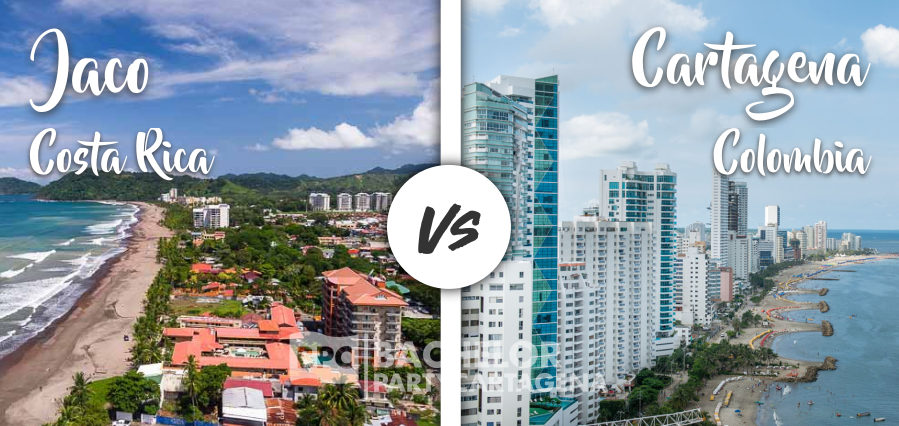 Costa Rica Bachelor Party Vs Cartagena Bachelor Party
If you are planning a truly epic bachelor party, you are interested in reading this versus review between a Jaco Costa Rica bachelor party and a Cartagena Colombia bachelor party, which are right now probably the best 2 destinations for bachelor parties in the world, or at least those which are growing more and which are giving more to talk about in 2023!
In this comparative based on the opinions of several groups of friends and customers who have been in both destinations, reviews on sites such as Reddit, TripAdvisor, Airbnb, and other blog sites specialized in bachelor parties, we have collected the following material to help you figure out which destination Jaco or Cartagena, matches better your wishes.
Jaco, Costa Rica Bachelor Party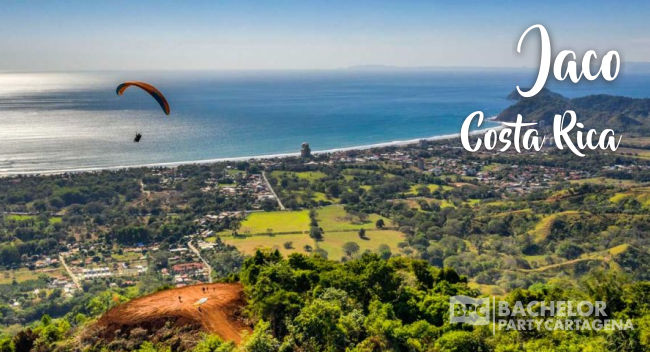 Jaco, the most popular beach town among singles in Costa Rica, has been growing in popularity since the last few years, with the establishment of several bachelor agencies that increasingly add more and more VIP services to their vacation packages.
So, Jaco has been specializing very fast in creating a different experience of what you are used to seeing and enjoying at bachelor parties in Vegas, Montreal, Nashville, and others, using for this its paradisiacal, wild and natural touch.
Considered today as the second most recommended destination for bachelor parties in 2023 by many independent lists that you can find on the internet, it undoubtedly makes gala of this honor position, only behind Cartagena, Colombia.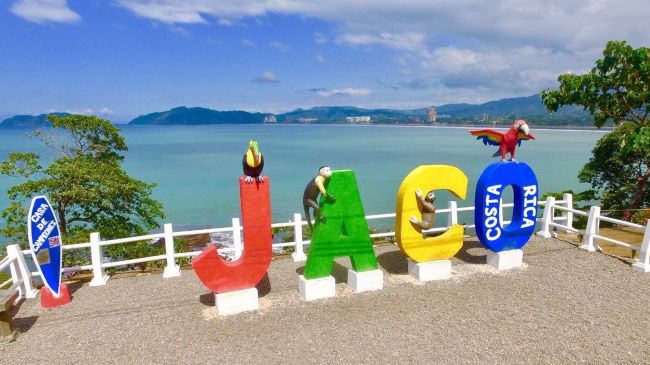 Its amazing wet forests and beautiful beaches have made Jaco grow very fast in the tourism sector not only in Central America but also in the entire continent. People get attracted mainly by being a very affordable destination for tourists of mid-range budget and its wild nature, but Jaco also has the advantage of not needing a tourist visa if you are coming from the United States.
Local women are pretty kind and some attractive, although it can be kind of difficult to see some stunning girls, so be aware, if women are one of the main decision factors in your bachelor party, you should low your expectations.
Even though, you can find a couple of strip clubs where you can enjoy some exotic beauties.
When and How to travel to Jaco, Costa Rica?
Costa Rica is a very rainy country, so the rainy season should be avoided to fully enjoy Jaco beaches and other adventure tours.
Perhaps the best dates to plan your trip are between January and April, even early December, which is the beginning of the dry season, but try to avoid the Christmas holidays because prices will increase during the high season and can be also hard to find a nice vacation rental.
You will land at the Juan Santamaría International Airport (SJO) in San José, Costa Rica's capital city, then you must go by car (in a private van or bus) up to Jaco for about 1 hour and 30 minutes more.
Where to stay during your Jaco Costa Rica bachelor party?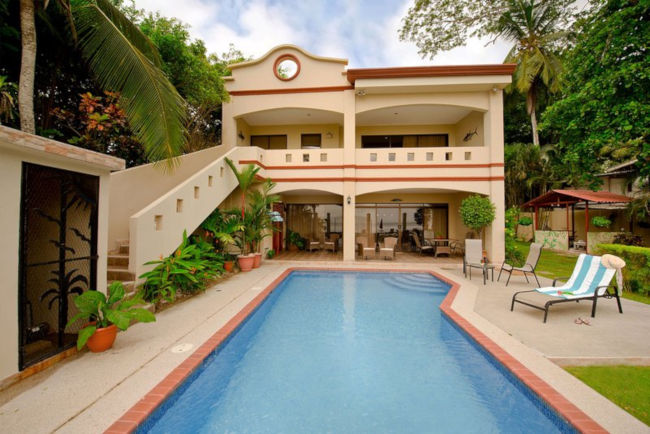 Very few hotels in Jaco Costa Rica allow bachelor parties, this means that those are not places where you can make a lot of noise, get drunk, smoke everywhere, and you can't receive visits from ladies friends late at night.
Instead of trying to enjoy a holiday resort, the ideal is to get a party house or a bachelor party friendly vacation rental in Jaco Costa Rica. These are not cheap and there are not many options, but it is really the best option if you want to take the most of your Costa Rica bachelor party.
What to do in a Costa Rica bachelor party?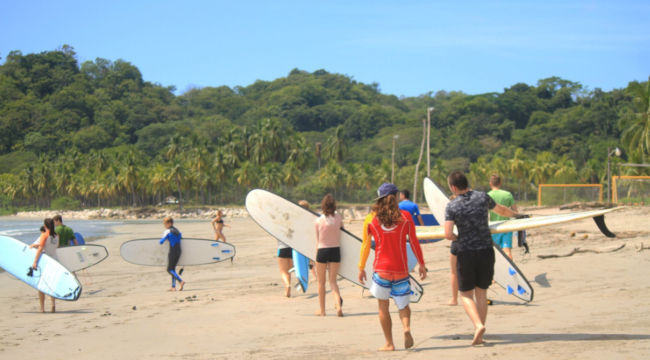 Truth be told, Jaco is a very small beach town with just 142 km2 and less than 20 thousand inhabitants, although very nice, cozy and quiet facing the Pacific Ocean, which is why it is an ideal destination for adventure travelers that enjoy surfing and other extreme adventures, being basically a town full of surfers and enthusiasts from many countries who were trapped by the ideal beaches for their beloved sport.
Therefore, a must in any Costa Rica bachelor party is, of course, go a full day to have fun on the beach, chill out, drink nice "Imperial" beers and eat tasty seafood, all of this usually in Playa Hermosa which is the most recommended beach in Jaco.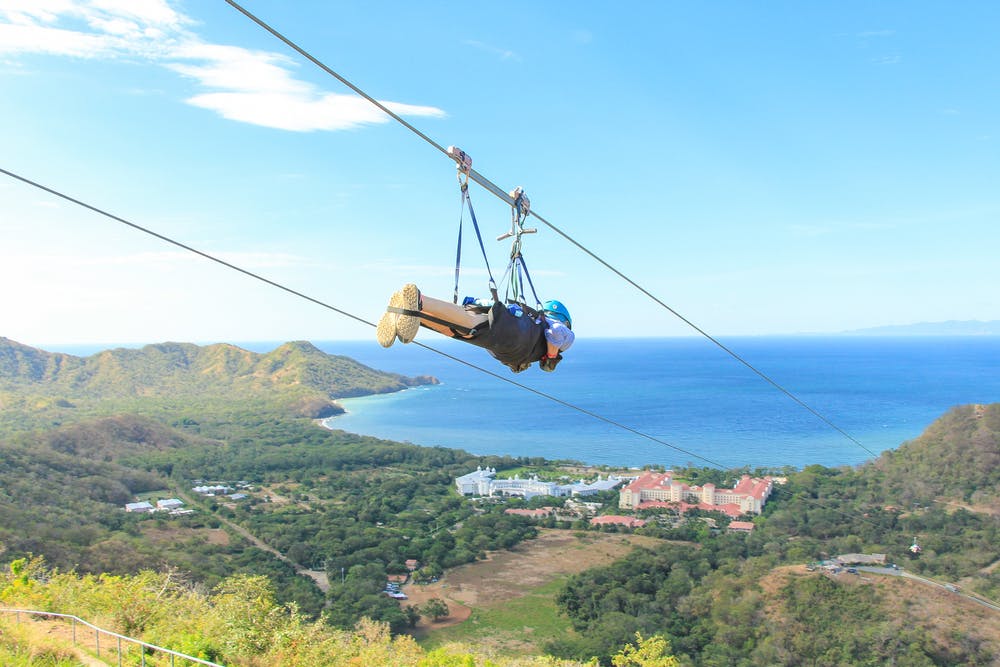 For the less extreme or skillful in the water, the Costa Rica bachelor party experience offers some other hobbies very demanded as the zip-lining across the forest and exciting ATVs rides.
At night, the quiet town of Jaco lights up and although the variety and quantity of good bars and clubs are limited, there is always a place to go and have a great time. Even more reduced is the list of really good strip clubs that worth visiting, but if you want to save the night, don't' miss Centerfolds Gentlemen Club for your Jaco Costa Rica bachelor party.
How expensive can be a Costa Rica bachelor party?
This is one of the great points of a Costa Rica bachelor party. Jaco is an affordable tourist destination for most of the young people living in the United States and Europe, as long as the idea is to spend a few days to enjoy without too much waste or extravagance, if that is the plan, Jaco will be kind with your pockets.
National food and drinks are not expensive but stay aware that most of the bachelor party friendly vacation rentals can be kind of expensive because prices are adjusted to US tourists looking for extreme fun and debauchery, mainly.
Some conclusions about bachelor parties in Costa Rica: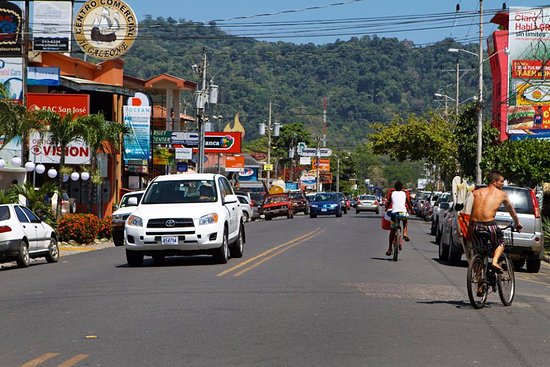 Jaco, Costa Rica seems to have become so popular in recent years due to it original and tropical bachelor party experience in a destination that mixes the beach lifestyle with a lot of wild nature and adventure to enjoy, creating a unique and memorable experience for many bachelors at a very affordable budget to many.
But the truth be told, everything in Jaco looks to be focused for groups of friends looking for an adventure weekend in a wild and beautiful beach to chill out and have fun without draining the bank accounts, and of course, not expecting to have a legendary bachelor party full of madness and stunning girls everywhere.
So, if your bachelor party squad is not a mad one, Jaco and Costa Rica is a great place where to have a lot of fun and relax, so come with confidence to Jaco for a great Costa Rica bachelor party and get the experience you are looking for.
Talking about the money, people assure that with a $ 1000.00 per person budget you could spend a great time in Jaco, maybe a weekend or a couple of days more, leaving perhaps something extra to spend on women and other exclusive things that you desire out of basic (accommodation, food, drinks, and transportation).
Cartagena Colombia Bachelor Party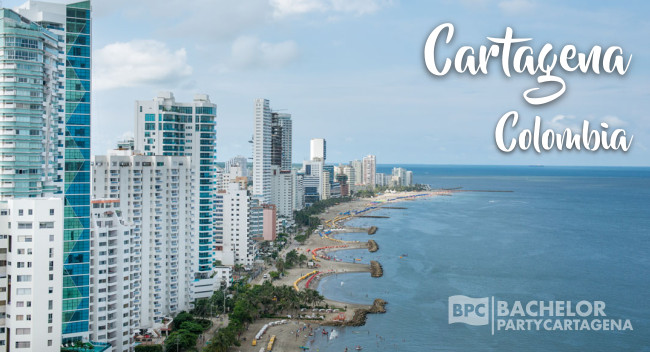 Cartagena de Indias, Colombia, the madness of bachelors in 2023! This city was already considered one of the favorite tourist destinations of the Caribbean for family vacation trips and honeymoons but, since early 2017 Cartagena exploded and started to climb all positions in the top lists of the best bachelor party destinations around the world!
So, facing the reality, the Cartagena Colombia bachelor party experience is the king of bachelor parties in 2023!
But what makes Cartagena the No. 1 city for a sick bachelor party full of extreme fun and lust in the purest style of King of Instagram @danbilzerian?
A short and easy answer would be: It's the Caribbean, Dude! Stunning Women, Sun and Paradise Beaches!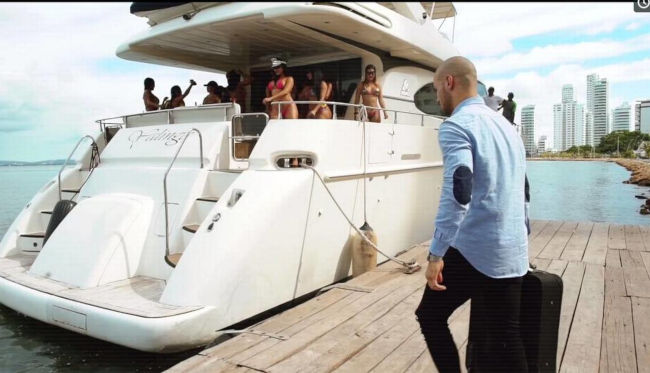 The truth is that Cartagena already met a number of conditions to be so popular among bachelors looking for something beyond Las Vegas and Miami for their last crazy weekend.
Watch this video with Will Smith enjoying like many other celebrities in Cartagena, Colombia.
In a few words, in 2023 many bachelor party Cartagena planners are trying to replicate and adjust their bachelor weekend itineraries based on the travel experiences of some famous people in the Walled City, Cartagena de Indias.
So, the big promise of bachelor parties in Cartagena is to enjoy the most amazing all-inclusive luxury VIP party weekend that you can imagine. And when we say all-inclusive, we mean it, Mansions, Party Yachts Tours, Private House Parties, Stunning Women in Private Pool Parties and VIP Services as private Dj, Chef, Barman and the best alcohol and cigarettes of the world, only for you and your bachelor party crew.
When and how to get to Cartagena for a bachelor party?
When is the best time to have a bachelor party in Cartagena? is something that you need to take into account to avoid high prices during high seasons and avoid difficulties to book a nice vacation rental.
Basically, the hard dates that you should avoid would be the high season in Cartagena: from December 15 to January 15, since many families are going to receive the new year to Cartagena and will stay until January. Also from June 20 to July 20, you should avoid Colombian school vacations and collective vacations.
You can get a direct flight to Cartagena Colombia, for example, from the United States and Mexico with American Airlines, COPA or Avianca. All international flights will land at the Rafael Núñez International Airport (CTG). From there a UBER or taxi takes 15 or 20 minutes (5 km away) to the center of the city (the old town or the walled city) where you will find most of the nicest accommodations, restaurants, bars, and nightclubs that can be recommended for your Cartagena bachelor party.
Where to stay for a bachelor party in Cartagena Colombia?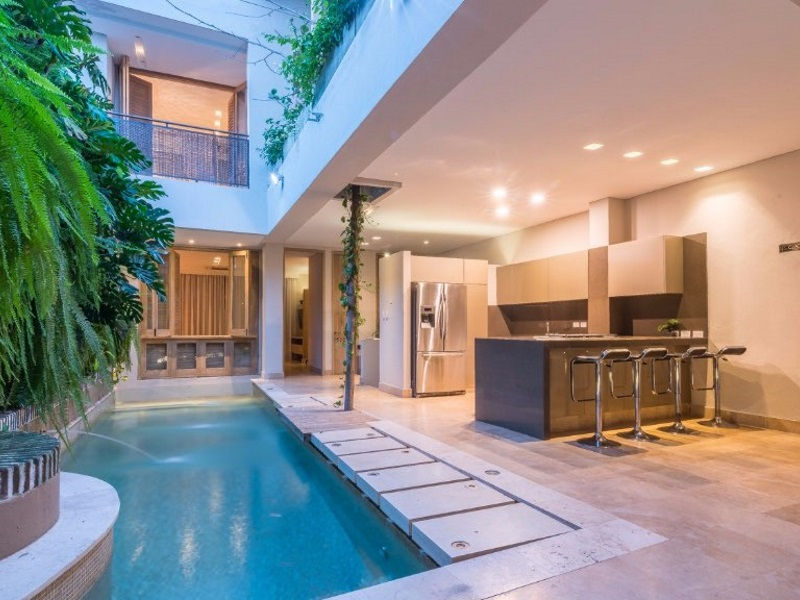 The best bachelor parties in Cartagena have as headquarter, luxury old mansions and restored colonial houses, where you can enjoy all the amenities of a 5-star hotel and at the same time all the desired privacy for the most insane private parties full of beautiful Colombian girls.
Cartagena de Indias preserves very well its cobbled streets, forts, and architecture of the 16th century that have consecrated to the city the recognition of UNESCO as Historical and Cultural Heritage of Humanity. For this reason, luxury tourism has given more value and prestige to stay in colonial restored mansions instead of the classic 5-star hotels, which of course you can find many in Cartagena.
Here you have a great list of the best stays for bachelor parties in Cartagena:
Best bachelor party ideas for a Cartagena bachelor party: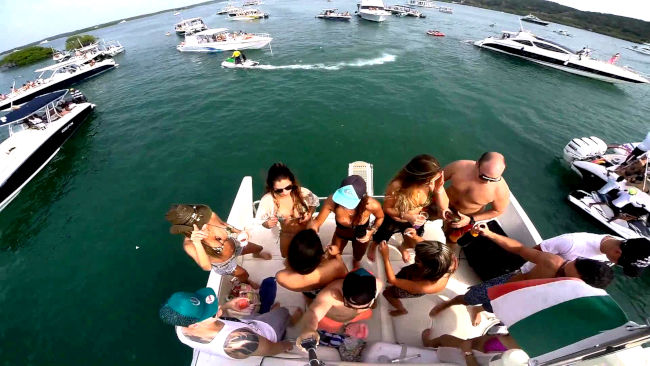 The best bachelor party Cartagena itineraries include as main activities the enjoyment of the sea, tours across the best Cartagena beaches and islands such as Playa Blanca in Isla Barú, the Rosario Islands, Boca Grande, La Boquilla, El Laguito, Castillo Grande, Playa Linda, Boca Chica in Isla de Tierra Bomba, and the Cholón inlet.
A must in all Cartagena weekend getaway plans is a VIP catamaran/yacht party, with music, food, alcohol and beautiful girls on board for hopping island style across some of the mentioned places above, without a doubt an unforgettable experience for bachelors visiting Cartagena, Colombia.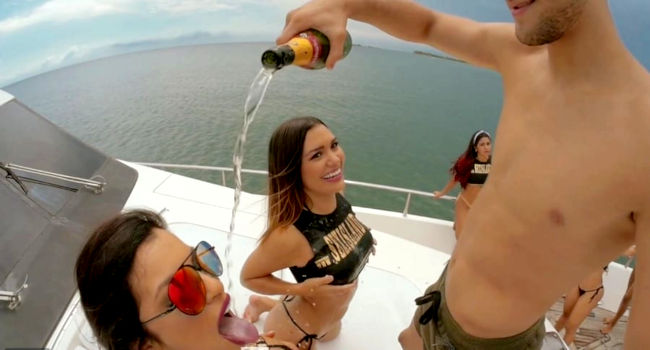 Others recommended day activities are related to aquatic sports or water attractions, such as flyboard machines, scuba diving, jet skis, kitesurfing, deep-sea fishing, visits to the Rosario Islands aquarium, among others.
Also, another highly recommended activities outside the water are the visit to the impressive San Felipe de Barajas Castle, the Medicinal Mud Volcano Tour (Totumo Volcano), and the Cartagena Old City historical tours.
In the afternoons and evenings, you can tour through several cafes and outdoor bars where you can admire the beach, enjoy some nice "Águilas" (one of the best national beers), snacks and nice music.
When the entire night falls, Cartagena exposes one of the best nightlife scenes you can see in the world, bars, and nightclubs bursting of rumba/party lovers.
Depending on your group likes about dancing, some nightclubs will be better than others to have a great time meeting and flirting with some Colombian beauties.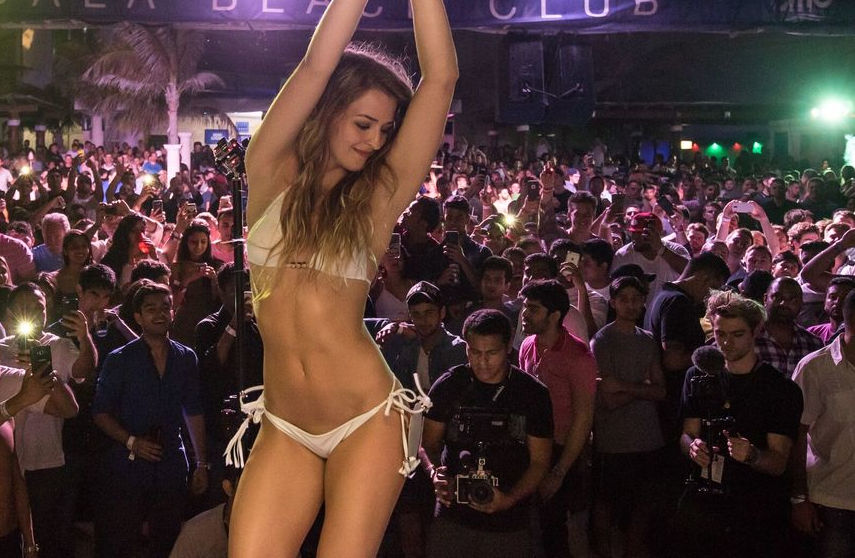 For explicit fun and sensual pleasure, Cartagena offers a handful of excellent strip clubs, being one of the most recognized Pley Club Strip.
Another key activity in any great Cartagena bachelor party itinerary is to leave at least one night to enjoy a crazy private party at home, with the best of the best, alcohol, snacks, Colombian grill, music, cigars and a pool full of beautiful babes partying in thongs.
How expensive is Cartagena Colombia for a bachelor party?
Cartagena, being a coveted tourist destination in the Caribbean, may be slightly more expensive than usual cities in Latin America, but still cheaper than an average USA/Las Vegas bachelor party, and for that same budget, you could get more than twice the fun, luxury, and exclusivity in a bachelor party Cartagena.
Even an amazing 18th-century mansion and a party yacht can be affordable by many middle-class American bachelor party groups who plan ahead and save money a few months before.
Certainly, it is money well spent, and it's not a lot of money, with around a $ 1000.00 per person budget, you could have an epic all-included VIP Cartagena bachelor party.
Some conclusions about bachelor parties in Cartagena Colombia:
Without a doubt, bachelor parties in Colombia (Cartagena bachelor party & Medellin bachelor party) deserve all the notoriety and prestige they have achieved in 2020 and 2021. The high quality of tourism services, the kindness of its people, the beauty of its women and the massive amount of exciting things to do, makes Cartagena at a glance, a pretty attractive bachelor party location.
But if you also consider the sunny and fresh weather of this Caribbean city, it's great colonial and luxury party vacation rentals, the paradisiac islands, and beaches, the remarkably cheerful and party spirit of its sexy women swarming everywhere, Cartagena really becomes an unbeatable bachelor party destination!
But truth be told, Cartagena de Indias is not for every bachelor group, because most of the Cartagena bachelor party packages are planned to be true VIP parties, unforgettable dense experiences, but still, reachable for some average North American young men employees.
In short, if you want to make the most of this epic life moment before you get married, and want to give yourself the life of the rich in the Caribbean for a few days, taste delicious lobsters, ceviches and other exotic seafood, taste exquisite rums and nice cigarettes, enjoy luxury yacht parties and crazy pool parties while intimate with the most stunning women on the planet, do not doubt it, Cartagena Colombia is the absolutely paramount destination for your bachelor party.
Final thoughts about a Jaco Costa Rica bachelor party versus a Cartagena Colombia bachelor party
Jaco Beach is the ultimate destination for bachelor parties in Costa Rica, receive every year hundreds of bachelors from different places of the world, and most of those groups claim to have chosen a better bachelor party destination than the classic Las Vegas, Nashville, Miami, etc.
Now you must meet and discuss as a group, which of these two amazing destinations for bachelor parties, Jaco (in the Pacific) or Cartagena (in the Caribbean) offers the best experience according to your personalities, interests, likes, and desires for this special event of the groom and his best friends.
If You Liked, Would You Rate It?
Summary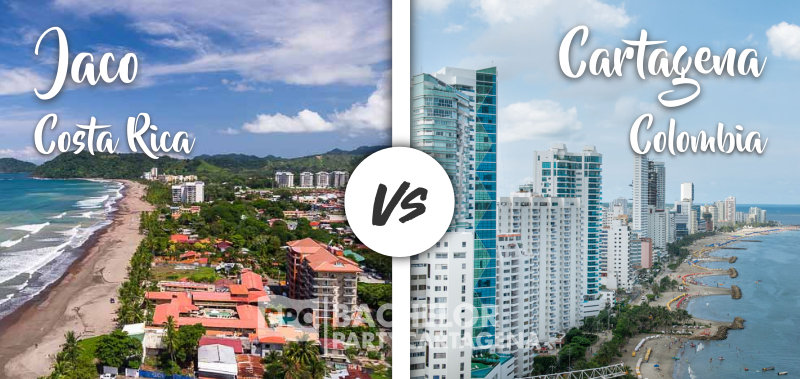 Article Name
Jaco Costa Rica Bachelor Party Vs Cartagena Colombia [2023 Review]
Description
In this comparative based on the opinions of several groups of friends and customers who have been in both destinations, reviews on sites such as Reddit, TripAdvisor, Airbnb, and other blog sites specialized in bachelor parties, we have collected the following material to help you figure out which destination (Jaco Costa Rica or Cartagena Colombia), matches better the style of trip of your Bachelor Party group.
Author
BachelorPartyCartagena.com
Publisher Name
Publisher Logo